Seatac, WA
Happily Living in Seattle for the past 32 years with my two sons and one grandson. Retired from Young Corporation, a heavy equipment manufacturer, in January 2016, where I was their purchasing agent for 28 long years. Once a year, I enjoy traveling to California, Nevada, and Arizona to visit with my siblings, and catch up on everyone's lives. I Enjoy various hobbies and am an avid reader. (updated 7/15/17)


Pinon, CA.
After two early short marriages, met and married my true love, Scott Russell, in 1981. We have two marvelous grown children (and their wonderful spouses) and three grandchildren. I've had three careers: production control planner, graphic artist, and IT Manager. The last career brought us to Dallas 10 years ago. We now live on 10 acres about 50 miles north of Dallas. Quit the careers in 2004 to take care of my elderly ill father, who lived with us, and went to work at our church because of the flexibility. My father passed Easter of 2007 but I still work at the church! Mostly administrative stuff, but I also occasionally deliver the message (preach), play the piano for church services, weddings, and funerals, and sing in the choir. I don't miss the corporate life (except the money) and don't imagine I'll ever go back to it. (8/9/08)


Mechanicsburg, PA. .
I went to UC Davis right out of high school. Started in Math, changed to Biological Science and graduated with a BS. Got married in 1974, then licensed and certified in Medical Technology and did that for 10 years. Got a second BS in Computer Science in 1989 and have done programming, PC/Macintosh support, and systems support since 1990. A 10-year contract at Hershey ended Sept 2007. I took a few months off, then have been caregiver for my mother the past six months. When Mom dies, I'm sick of computers and will be looking for a new incarnation. Wish I'd been a genetic counselor or scientific researcher. Maybe it's not too late. I've always been a seeker and I'll figure it out. Separated 1995, divorced 1999, still single and enjoying it. Have a 27 year old son who's getting married later this month. I live in the tourist mecca of central Pennsylvania, Lancaster County, where Witness was filmed. I'm on the board of trustees of the Unitarian Universalist Church of Lancaster, where the people are fantastic. Life is good to me. Hope that's true for everyone else. (7/4/08)


Groveland, CA. attending 50th
Currently president of the board of directors for the Southern Tuolumne County Historical Society. Veteran of Viet Nam, '69-'72 on the USS Kitty Hawk CVA-63. Married 40 years, 2 kids and 3 grandchildren. Self employed Gardener-30 years. Sold "THE GRASSCATCHER" business in Feb '07 and retired to Pine Mountain Lake in Groveland, Ca. I love all music (especially Classic Rock), Fishing, Golf, Wine Collecting & Tasting, Hiking in Yosemite, Star Gazing, Reading, Traveling (prefer Europe & Austrailia), Scuba Diving, and my new iMac. Life has been a lot of fun so far. (updated 07/18/17)


Doin' what I love best, fishing in the high Sierra. Family moved to Phoenix, AZ in Dec. '67, half way through my senior year. Had to sell my beloved '51 Chevy Pickup (very traumatic!!!!). My brother John and I walked into the principal's office at Saguaro H.S. in Scottsdale, AZ, at the same time and dropped out (4 weeks before graduation for me). About 2 weeks later, I joined the Army. About 2 days after that, I found out there was a place called Vietnam. About 9 months later, I was there!!! (1/1 Armored Cavalry). Got married in 1972 (36 years next Dec.) Three kids and 2 granddaughters. Currently working at McCarran Int'l Airport in Las Vegas. Spent a good portion of the past 40 years perfecting my fly-fishing skills.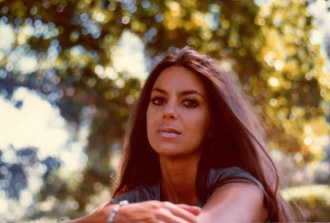 Deceased (8/17/50 to 8/27/17)
My beautiful and beloved wife, Kathleen (Humphrey) Holcomb passed away last summer. We are both class of 68. I have enclosed her obituary that I wrote and her photo to post on the Memoriam page. Thank you. Jim Holcomb (3/7/18)
Kathleen L. Holcomb (Kathe to her family) passed away quietly Sunday, 27 August 2017 after a courageous six month battle with cancer. Kathleen was born 17 August 1950 in Yokosuka, Japan to a military family. As an Army Brat, she grew up with a wealth of experiences as her family lived at various locations in the United States and overseas including Germany and Panama. Her parents eventually retired in Cupertino, California, where she met her future husband, Jim, as a junior in high school. After Jim's commissioning as an Army officer, their marriage in 1973 began a second life adventure that took them to diverse assignments in Hawaii, Monterey CA, Fort Bragg NC, Germany, England, and Belgium among others. Their last military assignment was at the Army War College at Carlisle Barracks, PA. They retired from the Army in 2002 to set up a new home in Mechanicsburg, PA. In their 44 years of marriage, Kathleen transformed 16 apartments and houses around the world into homes for her family with imagination, immense patience and love.
Kathleen was as beautiful on the inside as on the outside. She had the ability to make everyone she was with feel as if they were most special, whether an Ambassador, a foreign officer, a grocery store clerk, a gate guard, or a caregiver. She always carried candy in case she should come upon an unhappy child. She was extremely spiritual, a quality she attributed to her grandmother, Delia. She loved nature and often commented on God's bounty. She like nothing better than growing from seeds. She also had an incredibly creative imagination that manifested itself in poetry and many forms of arts and crafts.
Kathleen was predeceased by her father, LTC Robert A. Humphrey, USA, Retired. She is survived by her mother, Violet (Pat) Humphrey, her brothers, Scott and Roger Humphrey, and her "baby sister" (as she called her), Lisa Humphrey; her devoted husband, COL James F. Holcomb, USA, Retired, their daughters Lea Leiby and Genevieve Bearss and their granddaughter, Lorelei Bearss.
A Requiem Mass in Latin in her memory is scheduled to take place on Monday, 18 September 2017 at 2:00 PM at Saint Lawrence Chapel on State Street in Harrisburg.
Kathleen was a blessing to all that knew her and is missed terribly. She lived her life with grace, kindness, courage and a deep love for her God, her family, and her country. She will occupy a place in the hearts of many forever.